Biography of Maja Nikolic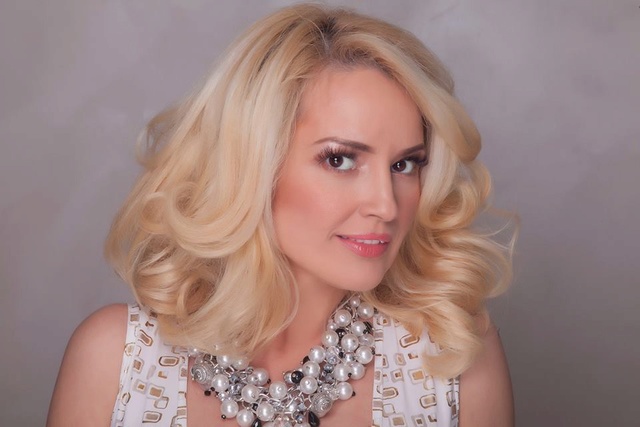 Marija Maja Nikolić  is a Serbian singer with very rich voice.  Her career has been built on festivals, she won 26 first prizes. Her most famous song from which became popular is '' Go away''. She has published 6 albums. Her best-known musical hits, domestic evergreen songs are: ''They all cheated me''(Serbian: Varali me svi), ''Take me''( Uzmi me), ''If you believe" (Ako verujes), ''Go away''( Odlazi), ''You left all (Napustio si sve).
1.Biography
She was born in Nis in 11. april 1975 year. From an early age showed her inclination towards music. Talent for singing she was inherited from the father and mother. Her father Novak, was pop music singer and had his own band in Zagreb, Croatia. Her mother was a member of the ensembles and she sang traditional music. Maja's brother, Marko, is educated musician. He graduated the jazz academy in Graz, Austria. She finished elementary school ''21th May'' and then finished high school ''Svetozar Markovic''. During her stay in America, she completed a jazz academy ''Stella Adler'' in Los Angeles. Maja her childhood remembered for her grandparents, with whom she spent a lot of time. She was an excellent student and practicing chess, athletics and basketball.
2. Children's Festivals and the period of pre popularity
Maja had her first public appearance with 7 years old. Maja Nikolic, together with her brother were made cantautor-duo, which was named MarMaja. Maja wrote the lyrics and brother Marko music. They have won many awards at children's festivals. As a young girl she won the first prize from her singing. She started with her 13 years to sing in pizzeria and café. She sang jazz, soul, evergreen songs… but also other types of music in the Nish's band ''Hazari''. The contract to release her 1st album for the Zagreb Jugoton, Maja got in 1989. However, the war started and that opportunity had failed.
3. Professional career
Maja is the singer with the highest number of performances and awards at festivals.
3.1. Beginnings
1991−1993
After many awards at children's festivals, Maja has continued to perform with his brother and festivals in the senior competition. The first festival appearance in the senior duet with Mark was at Belgrade spring 1991 with the song "When I see you here (Kad vidim da si tu)" This was followed by the Festival ''Fall of Nis'' in 1991, where she and her brother performed the song "Shadows"(Senke) and it was the last performance of the duo Mar-May. After that, Maja participates in festivals in duet with Mirko Chajic; the MESAM '92. ,with the song "Born to live"; At Festival Nis Fall '92; at the Belgrade Spring '93. with the song "I believe in love,"(Verujem u ljubav) After that song, she start cooperation with Vladimir Graic, music composer. Vladimir Graic is the author of Maja's the biggest hits , who became her godfather baptized in 1995. For her breakthrough in Showbizz world, is responsible Odzaklijeviska Maja, her celebrity mother as she calls her, that she met with the important people in the RTS (Radio and Television of Serbia). Her first solo performance was at the Budva festival in 1993 with a performance of Vladimir Graic's ballad "My soul belongs to you (Moja dusa tebi pripada."
3.2. The peak of popularity (1998-2000)
1994.
For Maja, 1994 is the year of the breakthrough. With the song "Go Away''(Odlazi) she triumph on February 7, 1994 at MESAM '93 (which because of the situation in the country was not held in 1993, but moved to 1994), winning three first prizes for composition prize 17 TV centers and the prize for interpretation. With this triumph Maja becomes popular, young hope of our music, whose talents were all impressed and predicted a successful career. She is known for her performances in crinolines. They called her the pop princess. Her career began to grow at an incredible rate. Shortly after this triumph at the Belgrade Spring '94 with the ballad "You left all", she wins / first prize of the audience. After two straight wins has become one of the most popular pop singer, of which all have only words of praise from critics, journalists, colleagues, audience. No less success she made on summer festivals in Montenegro. On the famous music festival "Suncane skale'' wins first award with the song "I'm in love" (Bas sam se zaljubila). That same year she participated at Belgrade Slager with the song "Any time you want" (Ne dam te). On Oscar popularity with the song "Go away" was declared a hit, as well as in many other famous music manifestations. From that year, Maja was considered a great discovery for the music scene. Soon after that, she signed a contract with PGP-RTS.
1995.
In 1995 she participated in Budva music festival with the song "Song of Silence"(Pesma tisine) and the music festival ''Suncane skale'' with the song "As I am crazy" (Kao da sam luda),  which became a big hit too. After a year of anticipation, after those incredible success of the festivals, Maja's 1st album, ''Now you can find me'' (Sad me pronadji) was published by PGP-RTS. The album's producer was music composer Sasa Dragic. In addition to the famous festival ballad on it were found and pop-dance track. Maja receives many annual awards, Gold hit TV news on MESAM for pop singer of the year, ''the Oscar of the popularity'' for the pop singer of the year, award on ''Golden Melos'', etc ...
1996.
At the ''Belgrade spring'' festival, Maja appearances with the performance of Vladimir Graic ballad "Dunja heaven"(Dunja nebeska). Then, on MESAM wins third place with the song "Every single moment I am belongs to you," authored by Mirko Chajic. On the Budva festival she participated with the song "All the goods of this world are you" (Svaki sam tren tebi sudjena) and the ''Suncane skale'' with the song "I'm not the same one". (Nisam ona ista). The CD Cornelius Kovac's "My Generation", there was a track in Maya's interpretation of "Give us a good night" (Dajte nam dobru noc).
1997.
Maja is briefly neglected his career, since 1997 gave birth to a son Novak and live in Australia. Years of absence from the music scene did not stop Maja upon returning to Serbia becoming more and more popular to climb to the throne domestic pop music.
1998,  second album "Uzmi me"
Immediately upon returning to Serbia in May, Maja won the title of winner of the ''Belgrade spring'' with the song "Do not try to find me again" (Ne trazi me vise), with whom she won three awards: Award of the jury for the composition; prize for interpretation; and the second prize of the audience. With this victory she has acquired the right to participate in the prestigious international festival "Slavic Bazaar". Of course, the Bazaar, which was held in Odessa (Ukraine) and Saratov (Russia), was rewarded as well. She sang "You're not mine" (Vise nisi moj) and "Djelem Djelem", arranged by Vladimir Graic and Zeljko Joksimovic and won first prize. As the winner of the festival she sang at the Red Square in Moscow and handed her the prize Ala Pugacheva and Philip Kirkorov, the biggest Russian stars. This is one of the most significant awards in his career. After big wins with real pop ballads, Maja decided to offer something different audiences and markets a new musical direction in Serbia ethnopop. The first ethno-pop song in his career, "Take me" (Uzmi me) presented at the Budva festival, which immediately became a huge hit and was declared a hit at all major events. On the music festival "Suncane Scale'' she won a bronze mermaid with her mega-hit "They all cheated me" (Varali me svi) which also was extremely well received by the audience. Even then it was clear that Maja steadily marching toward the top of our music and that made a successful experiment with ethno-pop, the risk paid off.
In November Maja released the album "Take Me", which has confirmed its inviolability then in our pop music and this album is a career of Maja Nikolic.
In addition to those famous songs from the festivals ,''Take me'' (Uzmi me), ''They cheated me all'' (Varali me svi), ''Do not try to find me'' (Ne trazi me vise), You aren't mine anymore'' (Vise nisi moj), on the album were songs and ''If you believe'' (Ako verujes), ''I have to be his'' (Moram biti njegova), ''Cold ice'' (Led ledeni), ''Unfaithful'' (Nevero), ''Bad girl'' (Losa mala), ''Wild rose'' (Divlja ruza). All the songs were amazing hits. Album "Take Me" was the top-selling album 1998/99. The album's producer was Vladimir Graic, who was the author of all the compositions. A collaborators on the album were also Aleksandar Kobac, Zeljko Joksimovic. Ethno-pop has become a general trend in the late nineties because of Maja's influence.

1999. – Maja first solistic concert
In 1999, Maja was receiving all possible honors for the singer, the hit of the year, album of the year. A confirmation of its huge popularity was her first solo concert in a packed hall of Sava Center 25. 2. 1999. With that appereance she has shown that, she is not only the most popular pop singer, she was a great humanist, since the proceeds from the concert given in Humanitarian purposes. It is in difficult moments for Serbia, that fateful 1999 during the NATO aggression, the singer with the greatest number of performances on the squares, bridges, and time has shown immense patriotism. She made the patriotic song "Far Away".
2000, third album
In June 2000, she released his third album "Out of spite." And this excellent album goes by the audience. Again she offered the audience something new, unexpected, with a touch of the Orient, but this experiment proved successful and the song quickly became huge hits. The most popular songs on this album are : ''Dragane'', ''Poison'' (Otrove), ''Dove'' (Golubica), ''Do not try to find the devil'' (Djavola ne trazi), ''Out of spite'' (Iz inata) and ballad ''It hurts'' (Boli). This album was in the top chart of year 2000.
3.4 Life in America
Since Maja Nikolic had won everything there is to win in Serbia, as pop singer, Maja has decided to build an overseas career. In 2001 she went to America. During her stays in America, she sang in Chicago with the band in ''Harry's Velvet Room'', the most famous club in downtown Chicago. In that club, Maja was spotted by Dion Antic, owner of 8 clubs there, and he called producer Matt Warren to talk him about his new discover. Matt Warren was impressed with Maja and they started their cooperation. Maja sang in the ''China Club'' in New York, as the opening act for Diana Ross at a charity concert, all proceeds going to children with special needs. She lived in L.A, the Westwood, Beverly Hills, San Diego. She graduated Academy for jazz singing, famous "Stella Adler" in Los Angeles. She was spotted out by the producer of Golden Satellite festival, famous Mirjana Von Blaricom, and she got invitation to appeared on film manifestation "Golden Satellite Awards," where she sang live the song "Something to Talk About" from the movie "About a Boy" (About A Boy) , where Hugh Grant had a leading role. She won the prestigious Golden Satellite Award for Best Song in 2003 year. No need to mention that Maja Nikolic is one & only Serbian celebrity & artist who won that prize.
2001-2014.
Maja did not neglected local festivals during her stay in America and at times she appeared to them. On the Budva Festival in year 2001 with the song "Lament" and music festival in Zrenjanin with song, "You have to pay" (Ti da platis). In that year Maja Nikolic was recorded 4 songs on english in Chicago with famous, David Moss. In the year 2002, Maja recorded cover of the song ''Almaz'' with Matt Warren, in the music studio ''Warzone'', as well in Chicago. Matt Warren is known as producer of world the most popular music stars as Whitney Houston, Grace Jones... Again in 2003 Maja won the same music festival with the song "Sick"; She participated in the Beovizija (The contest where Serbia choose singer who will be represent it on EUROVISION SONG CONTEST) with the ballad "Limit" in 2004 duet with Ceca Slavkovic on the Beovizija song contest "The poison in small bottles" (Otrov u malim bocicama); in 2005 she won the Audience Award at Suncane skale with "The hundredth time" (Stoti put). In 2007 year she participated in the Beovizija with the ballad "I know you do not love me" (Ja znam da ti me ne volis). In year, 2006 Maja released her fourth album, "For my soul" (Za moju dusu) for PGP, after 6 years of recording break. After 8 years of age from she moved to United States, Maja decided to returned back again to Serbia in 2008. In this year, Maja started her cooperation with Toni Cottura, in Hambourg, Germany. Toni is known as rapper, hip-hop producer and hitmaker in America and Germany. In year 2008, Maja participated at the ''Ohrid Festival'' with the song "For Your Eyes Only" (Samo za tvoje oci)and is awarded the with the "Toše Proeski" Performance Award 2008. After that, she participated at the ''Budva Festival'' with the song "Men's vanity" (Muska sujeta) song in year 2010.
- Maja Nikolic appereance with the song "Crazyness"(Ludilo) at the ''Grand Music Festival'' as well on music festival ''Makfest'' with Djoko Taneski, with the song ''Cekor pred site''. 2011 releases album "Red" In 2012, Maja performs Vladimir Grajic ballad "Straw for salvation" (Slamka za spas) at the Grand Festival; At the Vrnjačka Banja festival with the group ''Response'' with the song "Voice" (Glas), she won the Best Interpretation Award. In 2013 she participated in Beosong with the ballad "Blessing"(Blagoslov), whose author is the well known evolutionary composer Mark Paelink, and Maja wrote the text; Recording a spot for the song "Caramel". 2014 will record the song title "Where are you" (A gde si ti) ,for the movie "Heart in anesthesia" , and also she took part again in the Grand Festival with piece of music comoser Zahar's, with the song "Shu-Shu".
4. Discography
Sad me pronadji (1995) - PGP-RTS
Uzmi me (1998) - PGP-RTS
Iz inata (2000) - PGP-RTS
Za moju dusu (2006) - PGP-RTS
The best off " Ljubavni party" (2008) - City Records
Crveno (2011) - PGP-RTS - City Records
5. Today
In addition to her successful career as Maja also became reality the star. Her first participation in the rivalry was at ''Farm'' 2009 when she won the 4th place. Then came ''Kingdom'' (2011), Big Brother (2013), Farm (2015). She also had engagements as tv shows presenter. She had her tv show which has name "Dangerous ladies''. She also has role as music jury and mentor, in music talent show ''Maldivi'' on tv Happy in year 2016. In 2016, she published mini single which is name "Better Than Ever"(Bolja nego ikad).
In 2017, remix of the big hit "They are all cheated me"(Varali me svi).
2017.  Maja is the member of the jury of the amazing competition The voice of Serbia, which is named "Pinkove zvezde".
The last First Prize Maja won in september 2017. in Macedonia in "Ohrid festival" where she won the first special prize of the festival, named "Dolni Saraj". That was her 26th first prize with the beautiful song "Souvenir" of the composer Grigor Koprov.
Admin




Broj poruka

: 720


Datum upisa

: 08.04.2010


Godina

: 32




---
Dozvole ovog foruma:
Ne možete
odgovarati na teme u ovom forumu